"God has identified himself with the hungry, the sick, the naked, the homeless; hunger, not only for bread, but for love, for care, to be somebody to someone; nakedness, not of clothing only, but nakedness of that compassion that very few people give to the unknown; homelessness, not only for a shelter made of stone, but that homelessness that comes from having no one to call your own."






~ Mother teresa of Calcutta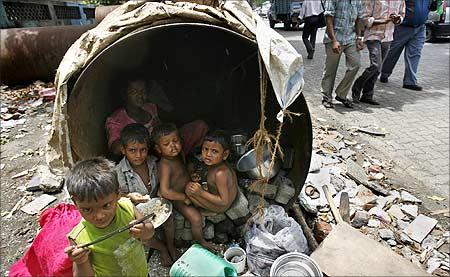 picture courtesy of google images
India, a land rich with history and culture, unfortunately is also largely consumed by poverty. Though much progress has been made to advance this country economically in recent years, much of its landscape is still saturated with the suffering. Educational opportunities for the poor are essential in lifting poverty from the face of this nation and bringing it into greater prosperity.

This world wasn't made for such darkness. It was never God's intention. But we live in a fallen world where sorrow interweaves itself in our reality and darkness threatens to overshadow life's joys. God calls us all to move past our comfort zones and reach out to the poor. The theme of helping the poor and suffering is found all over Scripture. We are to let our lights shine in the darkness of this world and carry the message of Christ, the message of truth, hope and joy to the suffering. Not only are we to speak out the gospel, but we are to live it out. Like the good samaritan, we are not only to extend compassion with words but by meeting the material and physical needs of our local and global brothers and sisters in need.

There is a beautiful ministry in India whose light is shining in the lives and hearts of over 150 children and 350 members, who, without its help, would have little chance for a future. Lynns Mission Educational Society is located in Vijayawada, Andhra Pradesh India. It has been involved in a multitude of ministries that have brought hope and relief to those suffering in their communities.



Lynns Mission Educational Society was founded by Reverend Victor David Soupaty, who resigned from his government job in 1990 to pursue the call he heard from Christ to serve those in his local community full time. On his website, these are the words the organization uses to describe their objectives and mission:

Sharing their love in order to uplift the downtrodden communities and their children by providing food, clothes, education, shelter and eradication of illiteracy are the objectives of this organization. Every child needs good education which helps the child in turn to help others. With this aim they have started a primary school in 1998 and it was upgraded to upper primary school with qualified faculty and staff.
In its history Lynns has been involved in relief, rehabiliation, development, adult literacy, AIDS awareness programmes, Street Children awareness programmes and establishment of education institution. It has focussed primarly on the most needy people of India. LYNNSMES understands the process of transformation as wholistic in that we are committed to addressing the socio-cultural , economic, education and spiritual aspects of the life of the community.It also deals with both the material and Spiritual aspects of humans and dealing with both people and all of God's creation. In principle therefore LYNNSMES (Lynns Mission Educational Society) is committed to intergrated programmes that eventually contribute to all process of transformation.The images of change that lynnsmes envisages are best summarized in the Biblical understanding of Kingdom of God.
Individuals like Rev. Soupaty, who are willing to take a leap of faith and live out their lives for Christ, are truly inspiring. They are examples of those who are living out Christ's compassion and love. This is the first article of a series I will be running, titled "Advancing the Kingdom". The purpose of the series is to highlight those in the Body who are actively living out the gospel and, indeed, advancing the Kingdom among us. It is my hope that they and their ministries will serve as examples and inspirations to others and perhaps connect others to their ministries who might be willing to support them in either prayer or with material donations, or both.

For more information on Lynns Mission Educational Society and how to help, please visit their website:
http://www.lynnsmes.org/
I will be having an opportunity in the future to interview Rev. Soupaty and look forward to sharing that here with you.
If you are involved in a ministry that is touching the lives of people, spreading the love and compassion of Christ, please let me know. I'd love to include it in this series.
Let's spread the joy of Christ to others!
www.lynnsmes.org
Any thoughts? I'd love to hear them! Please leave them in the comments section.